"To value one another is our greatest safety, and to indulge in fear and contempt is our gravest error."
― Marilynne Robinson, The Givenness of Things: Essays
"…we [can] live each day striving for affirmation, praise, and success. Rather than being set free to love others, we will be endlessly seeking to prove our own value. We will labor to water our gardens by drawing buckets from the world's empty wells. In the end this leads not to love, but to a dry and weary existence."

— Skye Jethani, With
"In fact, most of us people of the twentieth century live in the house of fear most of the time. It has become an obvious dwelling place, an acceptable basis on which to make our decisions and plan our lives… Those who could make me afraid could also make me do what they wanted me to do. People are afraid for many reasons, but I am convinced that the close connection between power and fear deserves special attention. So much power is wielded by instilling fear in people and keeping them afraid."

— Henri Nouwen, In the House of the Lord
Welcome to Issue #65 of the Lectio Letter. This members-only newsletter is filled with music, film and food suggestions, links, and an article written by yours truly.
Whether you become a paid subscriber or not, I'm very grateful to each of you who read and respond to this newsletter.
The Lectio Letter is a reader-supported publication. To receive new posts and support my work, consider becoming a free or paid subscriber.
PSA: I've heard a number of people have been missing out on the whole email if they use Gmail because the email gets 'clipped'.

You can see at the bottom of the email if it says "message clipped", then click "View entire message" to see it all.

You are not getting it all if you don't see my signature at the bottom.

Alternatively, if you don't want to read this in your email, you can use the substack app(where you can listen to the article read out) or read it online at LectioLetter.com
---
Introduction
Well, It is still Lent and if you missed the last instalment where I shared some resources for journeying through this time, you can read them here.
This time, we're beginning a two-part series, this one is about living in fear vs. living in love and the next one will be talking about leading in fear vs. leading in love. The dynamic between these two is at the core of Christian formation and discipleship.
I begin with the Great Commission because it is the call to Jesus' followers to do Jesus' work with Him. As I mention below, we are often tempted to believe that Jesus has done his part and now it is time for us to have a go. This is to miss the whole point. We will only become the kinds of people we are called to be, which is to say, a people of love if we do the work of God with Him. Fear is the default position for humans disconnected from God, but our connection to Jesus is truly our only resource and qualification for our work in the world.
---
Status Board
Life
In the last few emails, I've been keeping you up to date with our training for the Cape Town Cycle Tour. I'm relieved to announce, it is done! It was a great day (with only one puncture) and a delight to do it with our team;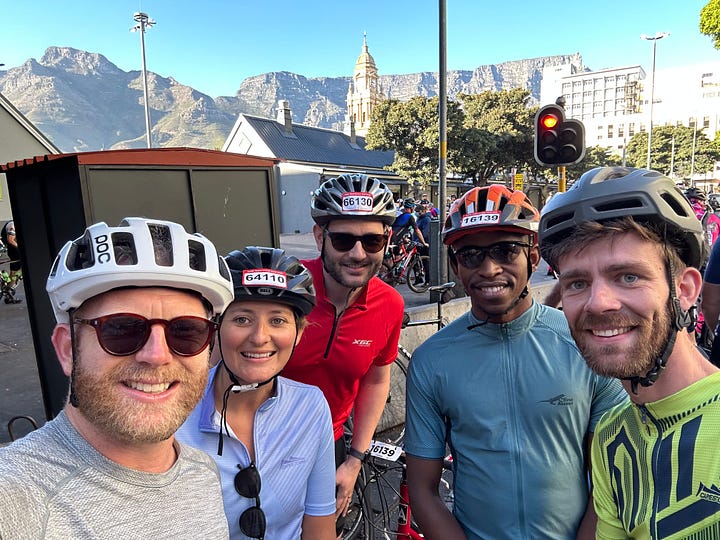 Rachel made a brilliant video summary of the day here! Over 5 hours on the bikes..
We have so enjoyed having Rachel's parents and brother Stuart (who rode the race with us) visiting. They made a great support crew.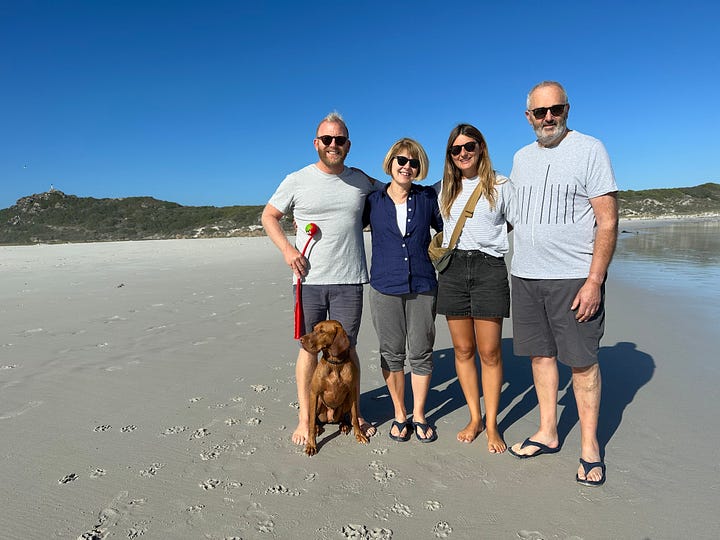 For my birthday this month, I was delighted to get a new phone. I'm hoping it will result in taking some more photos (much to Rachel's frustration I'm terrible at taking photos of people and prefer taking landscapes and people-less vignettes). Here's some from the month so far..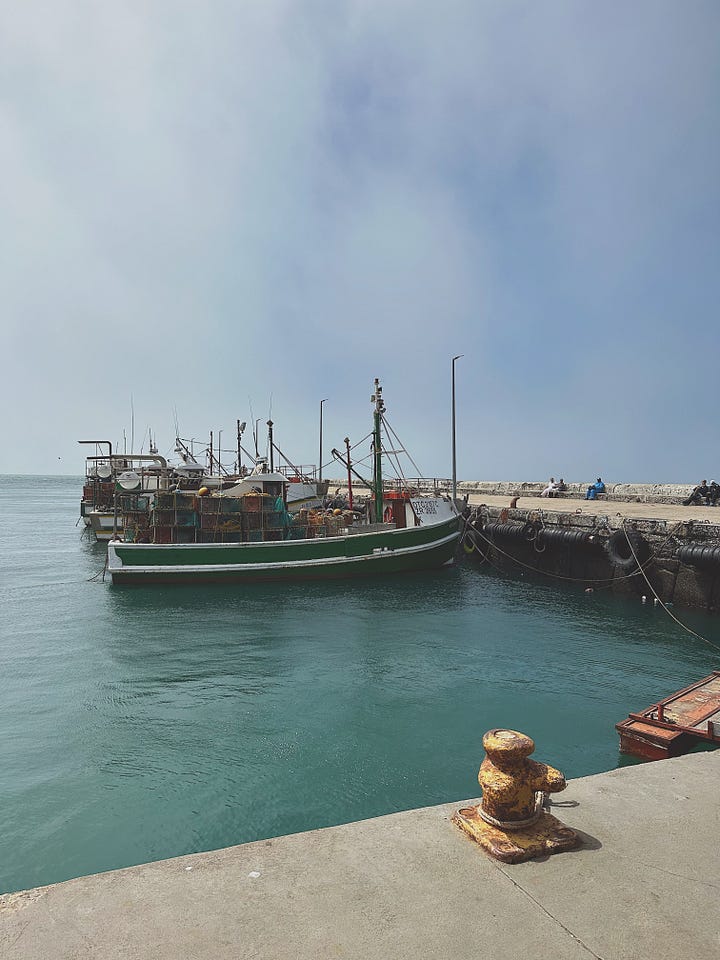 ---
Music
I've been appreciating this new jazz number by Jasmine Myra..
Also enjoying this laid-back song Vertigo by Nick Hakim
A little more upbeat sounds from Phoenix in After Midnight
---
Watching
It recent years the Formula 1 break out documentary/reality TV series "Drive to Survive" spawned fresh excitement for the role of this genre for the Sport itself. The Formula 1 show increased viewership of Formula 1 exponentially. Apple TV developed it's own series covering the World Surf League called Make or Break.
Rachel and I just finished the second season and really enjoyed it (and not only because one of our neighbours here gets a cameo)
Sticking with the surfing theme, we recently attended a local fundraising event here where they were showing "Facing Monsters"… It's a weighty documentary on surfing waves that guarantee a near death experience if things goes wrong, but the most captivating aspects are surrounding Kerby Brown's own monsters and the relationship with his tow partner and brother.
---
Eating
This past month was my birthday and we got to enjoy one of our favourites in Cape Town with Rachel's family in town; The Potluck Club.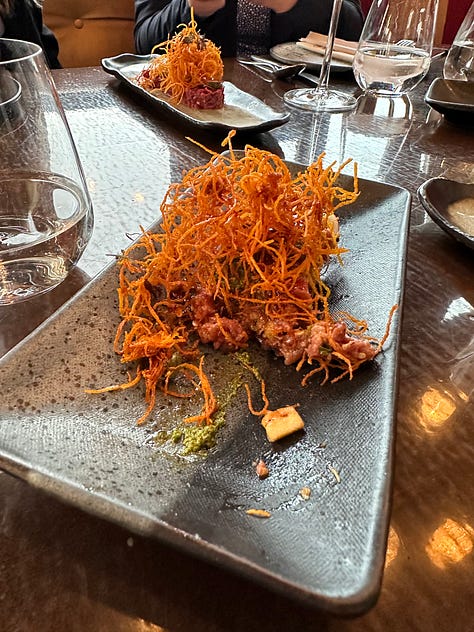 I am in love with their Cafe du lait sauce, but a few days later I made my own steak sauce (which is much simpler than theirs).
Ingredients
3 Cups (750ml) Veg Stock

175g brown mushrooms

1 Cup Red Wine

2 White Onions

100g Butter

200ml Cream
Process
Cook Mushroom in 25g of butter til reduced and browned, set aside

Add 75g of butter plus onions and 2 cloves of garlic cut finely 

Cook til translucent 

Add stock and wine, reduced for 25mins or till thick

take-off of the heat for at least 5 mins, add the cream stirring so it doesn't separate.

---

Living in Fear and Living in Love | Part 1
Have you ever wondered what the most quoted Bible verses might be? The answer probably differs over time and depending on what part of the Christian world you live in. But for those of us in Evangelicalism, surely the Great Commission of Matthew 28 is up there.
Go, therefore, and make disciples of all nations, baptising them in the name of the Father and of the Son and of the Holy Spirit, and teaching them to obey everything I have commanded you. And surely I am with you always, to the very end of the age.
This verse has been preached and memorised from the earliest days of Christianity. In this commission, Jesus invites Christians to work with him, but these days, when Matthew 28 is quoted, the emphasis seems to be on the action-oriented word, "Go."
The words spoken by Jesus actually don't begin here, however. Bible "verses" were introduced into English bibles in 1557, and verses were a helpful tool to coordinate group reading of scripture. It also allowed us to feel justified in quoting parts of Jesus' sentences without including the whole. 
If for a moment, we jump back in time before verses were introduced and read this section completely, we learn that Jesus had begun speaking in the context of inviting them to meet with him on a mountain.
"Then the eleven disciples went to Galilee, to the mountain where Jesus had told them to go. When they saw him, they worshipped him; but some doubted. Then Jesus came to them and said, "All authority in heaven and on earth has been given to me."

–Matthew 28:16-18
Matthew includes an unusual detail we miss when we begin triumphantly quoting Jesus with the word, "Go." He mentions that while they worshipped, some doubted. Doubt, it seems, is not just an invention of 21st-century Christianity, but was also a reality amongst the first disciples, the same ones who had been with him in his life, horrified by his death and amazed by his resurrection are found to be doubting. This is hard to fathom but it helps illustrate how fear, which doubt is an expression of, is found throughout humanity. Even those who experienced the greatest acts of God doubted.
Jesus goes on to declare that 'all authority in heaven and earth' has been given to him and then shares the part of the Great Commission which so many of us are familiar with.

When it comes to getting a job done, many of us prefer an instantaneous result or at least a quick one. In our worldly imaginations about what it means to have 'all power and authority,' it is easy to envisage Jesus simply clicking his fingers and getting everything that is wrong made right, now. Yet as the one with all power and authority, he chose a different way. He chose to use broken and doubting people to reveal the good news of his reign. We might be tempted to think that we would do it more effectively if we had all that power and authority. But Jesus chose this particular way of wielding power and authority because it reveals something important about the nature of love.
Keep reading with a 7-day free trial
Subscribe to The Lectio Letter to keep reading this post and get 7 days of free access to the full post archives.