Discover more from The Lectio Letter
A Fortnightly newsletter by Liam Byrnes with links, music, recipes and an article or review focussed on Christian formation, Theology and Discipleship
"What makes the temptation of power so seemingly irresistible? Maybe it is that power offers an easy substitute for the hard task of love."

― Henri J.M. Nouwen, In the Name of Jesus
"It seems easier to be God than to love God, easier to control people than to love people, easier to own life than to love life."

― Henri J.M. Nouwen, In the Name of Jesus
"We cannot participate in God's work but then insist on doing it our own way. We cannot participate in building God's kingdom but then use the devil's methods and tools. Christ is the way as well as the truth and the life. When we don't do it his way, we mess up the truth and we miss out on the life."

― Arthur Boers, Servants and Fools
Welcome to Issue #56 of the Lectio Letter. This members-only newsletter is filled with music, film and food suggestions, links, and an article written by yours truly.
Whether you become a paid subscriber or not, I'm very grateful to each of you who read and respond to this newsletter.
The Lectio Letter is a reader-supported publication. To receive new posts and support my work, consider becoming a free or paid subscriber.
PSA: I've heard a number of people have been missing out on the whole email if they use Gmail because the email gets 'clipped'.

You can see at the bottom of the email if it says "message clipped", then click "View entire message" to see it all.

You are not getting it all if you don't see my signature at the bottom.
Alternatively, if you don't want to read this in your email, you can use the substack app(where you can listen to the article read out) or read it online at LectioLetter.com
---
Introduction
Well, This is Part II of the series on living in fear and love. The first part is available in full to paid subscribers, but if you are a free subscriber you can see an extended preview below;
While the themes of fear and love stand at the heart of everything that happens in this Holy Week leading up to Easter I wasn't aiming to pick up this season through the articles.
If you're looking for something to read to reflect over this past Easter weekend, here are a few things I've written in the past;
---
Status Board
Life
It's been a quiet holy week for us. After 6 weeks of guests, we had the house to ourselves this week before the next guest arrives. It's a great gift to us to have a home and a space to welcome people. Something we don't take for granted.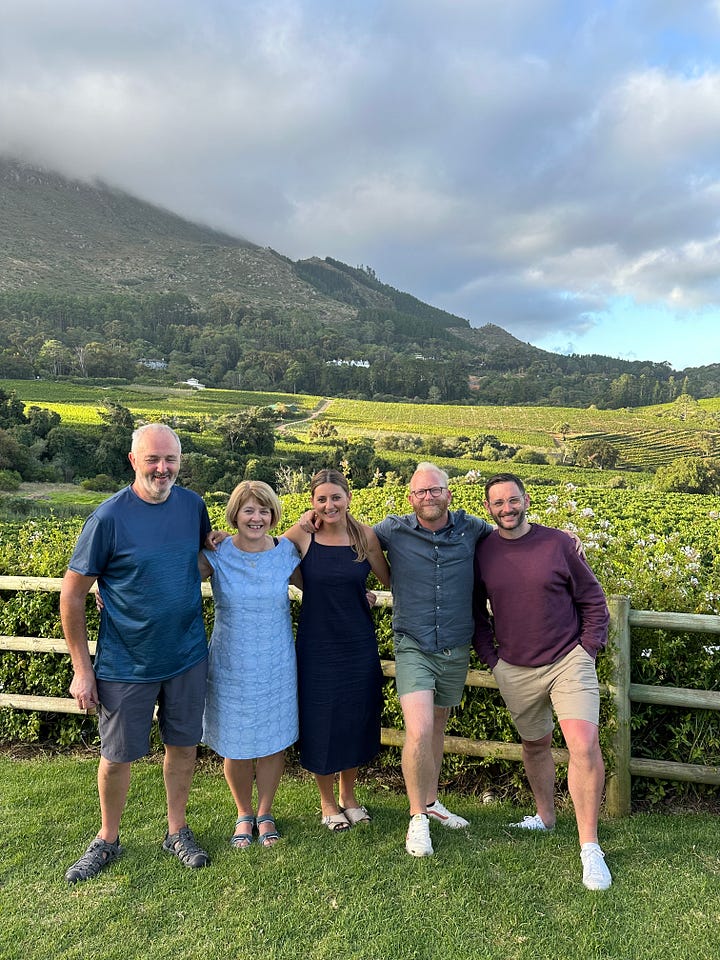 ---
Reading
I'm continuing to plod through Fleming Rutledge's 600+ page book "The Crucifixion" as we enter Easter.
Michael Bird's book on the Bible is on my "up next" and here's a good review of it.
This month I've been reading online as much as anywhere, and there is a whole world on substack…
There is a whole world on Substack now
When I moved this newsletter over from now-defunct Revue to Substack I was impressed by the "community" elements which encourage people to 'discover' other newsletters.
Just this month 48 new free subscribers came from other newsletters on substack! So welcome, and here are some other great reads from writers I pay attention to on Substack;
Scot McKnight: Did the people in the Bible believe in an afterlife?
McKnight writes so many books and articles it's hard to imagine he has a 'day job'. One of the most helpful parts of his newsletter is when he works through books that I wouldn't otherwise have time to read.
Richard Beck: Is he safe? No but He is good…
Richard Beck offers some pushback to the oft-quoted line about Aslan; Is he safe? No, but he's good. I have to confess to having used this line in teaching before, but his caution about "Tashlan", is a good one.
Michael Bird (well, actually NT Wright) on Women in Leadership
Michael Bird is a matrix of things. He's written on systematic, biblical studies, and issues of gender and is a humorously Australian commentator (and insider) on the world of global evangelicalism.
Beth Felker Jones on Theological Analogies
Beth Felker Jones has written the best book introducing theology that I know of… Practising Christian doctine and her newsletter is equally helpful;
Jim Martin with his ever-encouraging "Encouragement letter"
Filled to the brim with wisdom and insight. Well worth signing up for and reading.
Andrew Lavers on How to be an Artist
A Fellow Cornishman and wonderfully creative, Andrew's newsletter is a visual delight and shares excellent miscellany which will surely find its way into my own collections at the bottom of each lectio. In the newsletter below he includes a beautifully shot video of my brother Josiah talking about playing the guitar.
Ted Gioia on 10 Rules for Public Speaking
---
Music
I posted this in a previous article, but Jasmine Myra's album has been on repeat;
Here's a different performance than the last one I posted;
Also this from Bonobo;
---
Watching
In our current kick of watching sports "documentaries", we are watching the latest season of the Formula 1 Documentary "Drive to Survive" which the surfing documentary "Make or Break" was based on. Even though we don't even have a passing interest in Formula 1, the human drama, competition and characters are perfectly pulled together in something very watchable.
---
Eating
Karen Dudley's Turkish-ish Chicken Koshieri
A few years ago, we made this chicken dish again and again, and then this week, Rachel dug it back out of the archives and made it.
It was even better than we remembered.
These measurements are of eight and we can normally have them;
Ingredients
300 G Basmati or jasmine rice

4 Onions, thinly sliced

Half a cup of flour for dredging, the onions

2 1/2 cups of vegetable oil for frying

Salt and white pepper

One cup of dried apricots, sliced

Two tins of chickpeas drained (Rachel is not a fan of chickpeas, so we have always left these out)

Half a cup of currants

Zest of two lemons

50 g fresh mint, sliced

1/2 cup of pumpkin and sunflower seeds toasted in a pan
Process
Boil the rice in plenty of water until the rice is cooked, about 7-9 minutes. Start with a rolling boil for 3 to 4 minutes and then reduce heat and steam gently for a further five minutes until the rice is tender.

Drain the rice in a colander and rinse with cold water.

Slice the onions, finally dust in flour to coat.

In a wok or pot, suitable for deep, frying, fried batches of onions and hot oil for about 2 to 3 minutes until golden brown and crispy.

Drain on a paper towel, and then sprinkle with salt or other seasoning.

Season the rice and chickpeas with salt and white pepper and tossing them using two wooden spoons or your fingers.

Add the sliced apricots, currants, lemon zest, mint and crispy onions and toss together.

Arrange in a large, shallow bowl and sprinkle with nuts and a handful of the reserved fried onion.
---
---
Leading
in Fear and Leading in Love | Part II
I was sitting in a tense lunch meeting with the leader of the church I was a part of. For months, I had become increasingly uncomfortable with the patterns of fear and control he was leading from. Over a year before, he had suddenly closed all small groups, afraid that the leadership of these groups would somehow diminish his own influence. Fear always breeds a sense of scarcity, whispering to us that there is not enough to go around. 
In this meeting, I was challenging his decision to close the small groups and it was not going well. He had arrived tense and agitated and so I decided to put my logical arguments aside and try to meet him on a more personal level. I wanted to address his fear rather than the issue that it had led to. I began the sentence with his name, trying to take a more relational posture and said, "I do really care for you." This was the straw that apparently broke the camel's back. He cut me off and pushed his chair back. Standing up in the middle of the restaurant and shouting loud enough to draw the attention of those around, he shouted,  "You don't care about me! You only care about yourself!"
Fear always breeds a sense of scarcity, whispering to us that there is not enough to go around. 
I was shocked. I calmly invited him to sit back down and told him directly how inappropriate his actions were. It was the beginning of the end. He had used up all his influence, and his fear had led him towards such a deep desire for control that he lashed out in judgement and accusation. Within months the church, which had been growing and thriving, was whittled down to single digits.  
In the first part of the article, we considered the Great Commission and the disciples to whom it was originally given. They worshipped, yet were fearful and doubted. We saw that fear creates a desire for control which often results in judgement and destroys the possibility of love. In contrast, love arrives not with a desire for control but for connection. This connection requires a kind of humility and vulnerability that is open to learning and change. It prefers to be judged rather than to judge, knowing that in the way of love, there is always forgiveness and restoration. 
Fear and control don't just impact our inner lives. Our habits of fear and control impact those around us. The habits of love can also impact those around us but they are much harder won. We develop them through developing a consistent habit of being aware of God with us. But the path of fear and control is initially much more attractive because simply put, it takes less time. In our desire for efficient results, we can be tempted to ignore the cost of how we got there. 
When we live with these habits of fear long enough, they become "just the way the world works." We use these phrases to assure ourselves we are in touch with reality and being practical, unlike "those people" with their heads in the sky. We do what it takes to make things happen. But Jesus confronts the way the world works in Matthew 20 when his disciples' jockey for perceived and desired positions of power.
Jesus called them together and said, "You know that the rulers of the Gentiles lord it over them, and their high officials exercise authority over them. Not so with you. Instead, whoever wants to become great among you must be your servant, and whoever wants to be first must be your slave— just as the Son of Man did not come to be served, but to serve, and to give his life as a ransom for many.
Jesus reminds them that the Kingdom of Heaven is not a kingdom of this world. That does not mean to say that the Kingdom of Heaven isn't breaking into the world, but to say that the world, without an awareness of God, naturally operates in fear.
When it comes to working in Christian contexts (churches, charities and missions), it can be tough to have as much patience as love seems to require. The Great Commission, as we discussed earlier, is a call to action. It sets out how we are to partner with God in what He is doing in the world. But far too often this call to action can unconsciously partner with a kind of human ambition that outruns the pace of love. We see the task and the finish line, we recognise the eternal significance of what we are called to do, and we fixate on the future. When conceived this way, the problem for the Great Commission is that it tramples on the very way we are meant to be completing the task. 
In contrast to businesses, banks, and building projects, the task is not only a goal. It is the people. The task is to reveal the overwhelming love, joy and peace which exists in the life of God and has overflowed into the life of His Creation through humans. 
When we focus on the mission but not the means, we can ride roughshod over the very people we are meant to love, in the name of love. The irony is too much to take.
A friend, who previously worked in the construction industry, found himself in a position of leadership in a missions community. Suddenly, rather than a crowd of people he could pay and tell what to do, he was faced with a crowd of opinionated volunteers who pretty much could do what they pleased. He reflected on this to me and said, "If you can figure out how to lead this bunch, you can pretty much lead anywhere."
What he was recognising was the difference between the way of the world and the way of the Kingdom. Ultimately, the way of the world is to rule through fear. You do this or you don't get paid. This process is efficient because it bypasses the need for relationships and instead offers money. In the Kingdom, we are called to invest in people, influence them, and cultivate loving relationships through which we join in Jesus' mission. 
The difference between controlling leadership and influential leadership is the difference between the way of fear and the way of love. 
You can get people to work by using fear, but you can change people's lives with love. Fear-based leadership seeks to exercise control, uniformity, productivity and efficiency. Love-based leaders seek to influence towards the ways of love, with patience in the process and an understanding of the messiness of human growth. What love-based leadership knows is that oftentimes you are giving up productivity for fruitfulness. You are giving up factory efficiency for the fruitfulness of the garden. Factories have shifts but gardens have seasons. Fear is more efficient, but love is longer lasting. 
As Antoine de Saint-Exupéry famously said, 
"If you want to build a ship, don't drum up people to gather wood, divide the work, and give orders. Instead, teach them to yearn for the vast and endless sea."
If you want to motivate volunteer Christians, do not treat them as slaves and rule through fear. Rather, give them a yearning for the vast and endless sea of God's love. This way is much harder and takes longer but it forms people through love rather than forces them through fear.
Much of this may sound inspirational but not very practical, so how do we go about leading in love rather than out of a place of fear and control? Well, we need to remember that fear arises in us all when we encounter situations we cannot control. The key is not to allow fear to create ambition to control more than we can. My wife recently pointed me towards Covey's circles of control, which gives us a good (and simplified) picture of how we can discern the differences.
At the centre is the circle of control. These are the things we can change through choice. If I thought you could still read the word "control" I would have made this circle much smaller because what we can actually control is much smaller than we have been led to believe. 
The technological progress of our time coupled with a can-do attitude of educational systems has led us to believe we can control the world. In reality, we can barely control ourselves. 
But it is worth saying at this stage, after all my negative talk around control, that we must take control of what we can. This is mostly our own actions, thoughts and words. Basically, the circle of control represents you and your immediate surroundings (although importantly, not the people who immediately surround you). Here we are learning how to steward ourselves.
The second circle is "influence," and it is as large as the spread of your meaningful relationships. Some people have hundreds of people in this circle, others only two or three. What is significant is learning to steward your influence and refuse to fall into the temptation of control. Your main resource here is your ability to influence people. Influencing people is giving vision, advice, input, warnings and examples but without overstepping into control. To overstep is to enter into manipulation. 
You may have "directive" authority over someone, but as a wise leader once said to me, directive authority "..is like a bar of soap: the more you use it, the more you lose it." Most people have an intuition that someone is attempting to control them, and it doesn't win them over unless they are quite unhealthy. It certainly doesn't teach them how to become a person of love. 
Spiritual and relational abuse takes place in this circle when we overstep by demanding or constantly limiting people's freedoms, desires and initiative. Influence can be given and it can be taken away. How we use it will affect how much influence we keep. 
Here we are learning how to steward our influence without overstepping into control. If we are living and leading out of fear, our lives in this circle will be fraught with frustration and conflict as we seek to control what is not ours to control, being the lives of others. When we embrace the role of influence and relinquish control (which we never truly had in the first place), it results in a great deal of relief and freedom in leadership. When we relinquish control, we come to see the opportunity we have to fan into flame the gift of God without being utterly responsible for it.
The third circle is "concern." These are the completely uncontrollable aspects of our lives that impact us. War, future unknowns, famine, global warming, and disease. These things are outside of our control and influence but can cause anxiety. Here, we learn how to trust in God. The greatest temptation in this circle is to fixate on things of concern which we have absolutely no control over. The greatest impact we can have in this sphere is to pray and then turn over our concerns to God.
I've covered the ideals and some practicals but finally, I want to say something about the experience of discerning these realities within a Christian community. A great deal of the joy and pain we experience in our Christian lives is caused by the relationships we are in, whether they are with peers or leaders. 
It is no surprise that there is strife in our connections to each other given that Jesus said in John 13:35 that it would be by our "love for one another" that all would know we are his disciples. 
If this is our greatest witness, it is surely also the greatest place the enemy of God's kingdom would seek to disrupt. If we are seeking a perfect church, team or ministry leader, we will be perpetually disappointed. All of God's people, leaders or not, are all in the gymnasium of God's love, trying, falling, failing, and trying again. At the same time, it's important to recognise when we are in relationships with others that are moved more by fear than by love, especially when those relationships are people who lead us. 
Some have the grace to walk humbly and peaceably under a leader who struggles with control. For many others, a leader who acts out of fear and control can do great damage to their souls. We need to engage in honest, prayerful reflection to discern whether or not it is healthy for us to stay in these contexts or whether real damage is being caused. 
There are some difficult sayings in the New Testament and most of them are directed towards those who carry the privilege and burden of Christian leadership (James 3:1, Matthew 18:6). Those that carry (or seek to carry) influence or authority over other Christians should be expected to continually renew themselves through self-reflection and repentance. 
At the same time, those who are led by others should take seriously the task to pray for those who are called to shepherd and encourage them. The way of love is not just from those who lead to those who follow. Those in leadership often report great feelings of isolation and whether or not they have cultivated that themselves, they deserve that people reach out to them in love and kindness just as anyone else.
As I mentioned earlier, one of the most confusing experiences for Christians is when we encounter people doing the things of God, without God. In the very place we expect the ways of love to reign, we encounter the subversive ways of fear. 
Colossians 3 encourages us to put on love. This is an encouragement that love takes practice. But implicit in that is overcoming our 'natural' temptations to live from a place of fear. Living and leading through fear can be quite effective at building earthly empires, but learning and leading in the way of love, although it takes time, is the only way to sow into an everlasting Kingdom. 
---
Miscellaneous Links
Peta Pixel share some of the best mobile photography
A Serendipitous discovery of Jimi Hendrix recording a Joni Mitchell concert from 1968
via Alan Jacobs
In March of 1968, in Ottawa, Canada, a musician named Jimi Hendrix introduced himself to a singer/songwriter named Joni Mitchell. He noted that they were signed to the same record label (Reprise) and asked her if she might allow him to record her concert at a coffee house that evening. She agreed, and he arrived early and planted himself at the foot of the stage and recorded her whole show. Those recordings were lost for fifty years – but were discovered, in a private collection, in 2021. Here's one song from the set. Jimi could've been a pretty good recording engineer if he hadn't had other things to do. After the show he told his diary that he loved the show and enjoyed making the recording. "Fantastic girl with heaven words," he wrote.
Copyright-free images
I find lots of excellent copyright-free images from Unsplash which I use here on the Lectio letter at Substack, but I came across Artvee which is a source for copyright-free artwork. Here are a few of my initial finds;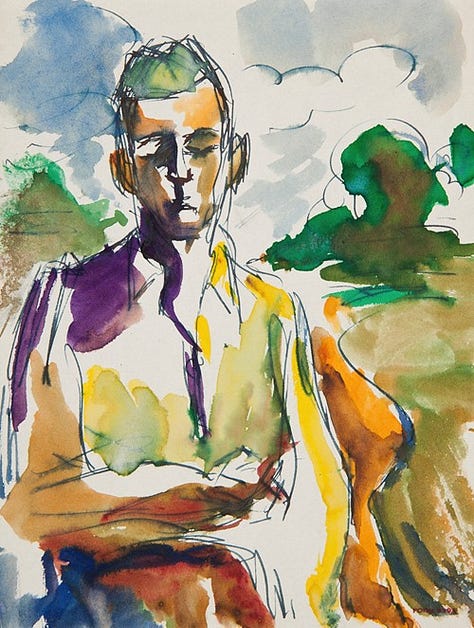 Victoria Rose Park (her Instagram here) is an abstract artist in Vancouver and paints some wonderful work;
Best Flight hacks
I often find myself helping people find good flights. I normally use a combination of Google Flights and ITA (which is a bit more complex).
But there were a few tips here I hadn't come across;
Be flexible with dates (and even destinations)

Book 2-4 weeks in advance (this is not so true unless you're flying solo)

Book a roundtrip ticket

Using a private browser window

Use https://flights.milesaddict.com to look for unusual tickets

Check Budget airlines on their own websites rather than search engines

Look for 24hr layovers in large cities

Look for Alternative nearby cities to where you are going

Try Expedia.jp

Remember the 4 C's; Casablanca, Cape Town, Cairo and Colombo (Cheaper flights)

Buy a Round the world ticket through Star Alliance

Stick to one of the alliances

24hr flight hack - Expedia and Orbitz (the US version)

Sign up for special deals - Airfare Watchdog, Scott's Flights, Fare Drop.
An Incredible Video of Namibia
A couple of years ago we went up to Namibia with my brother-in-law and his family, and it was pretty spectacular. Here's a beautifully shot video of this under-the-radar country;
Buying Books
As is probably no surprise to you if you read the Lectio letter, I buy quite a few books.
Normally, I'll head to Amazon because I'm shipping something ASAP to another person who will bring the book to South Africa and Amazon's prime delivery is unmatched. But often, I'll want to find a book which is either rare or expensive and so I'll look for a second-hand copy. While Amazon has used listings, AbeBooks (while still owned by Amazon) has a much bigger range of second-hand books to search for. Finally, I'll sometimes use book depository (again, owned by Amazon), but this has free worldwide shipping (although it's taken months sometimes to reach me here). This week though, I was introduced to a search engine called "Bookfinder" which collates results from all of these sites (and many more). While it looks like a website made in the 1990's, it's powerful and finds the cheapest book for you including delivery to where you live.
Three tips for Public Speaking from Austin Kleon
1. Talk slower than you think you need to. Take your time. Don't be afraid of a little silence. If you're lucky enough to land a joke, let the laughs die down before you start back up.

2. If you can open with a funny story or a joke — especially something local or specific to the group — you can get the audience engaged and on your side.

3. Don't be afraid to be brief. Nobody ever said, "Gosh, I wish he went on longer," and if they ever did, that's a big win, to leave them wanting more. As James Brown said, "Kill 'em and leave."
The Church After Innovation
I literally cannot keep up with the speed at which Andrew Root writes books. But I gained some insight on his latest book via the feature review at Englewood Review (which is a great spot to keep up with what is being published these days);
Root…focus[es] on the contradictions of capitalism and how they have changed from the Keynesian economics of the post-WWII period and into the "creative economy" of our age. This contradiction has played out in a variety of ways, but in our time, it has become centered in the self. "We are no longer guilty before a righteous God, as the early Calvinist Protestant would have claimed;" writes Root, "we are guilty before ourselves. We are guilty for not being the self we could or should be…Our freedom to be a self, and yet the way that freedom judges us for not taking full advantage of our freedom, is the newly imposed cultural contradiction of late capitalism."
Root continues to identify the 'market-place' ethics and inclinations that guide many churches that are seeking 'success', but these insights don't form people into the way of Jesus.
Read the rest of the review here
A Map of the most popular streaming services by country
That's all for now…